We are lucky in Kansas City to have the Sprint Center which brings amazing concerts, acts and performances to our city. Coming May 14-18 is Varekai from Cirque du Soleil. This show has an amazing story line filled with drama, amazement, acrobatics and wonder.
Deep within a forest, at the summit of a volcano, exists an extraordinary world where something else is possible. A world called

Varekai

.

The sky lets go a solitary young man, and the story of

Varekai

begins. Parachuted into the shadows of a magical forest, a kaleidoscopic world imbued with fantastical creatures, a young man takes flight in an adventure both absurd and extraordinary. On this day at the edge of time, in this place of pure and undiluted possibility, begins an inspired incantation to a life rediscovered and to a newly found wonder in the mysteries of the world and the mind.
One of the things I love about Cirque du Soliel is the international cast. Varekai features an international cast of 50 performers and musicians from 18 different countries. I have heard time and time again that they put on the best shows so I'm very excited to experience Verakai in May!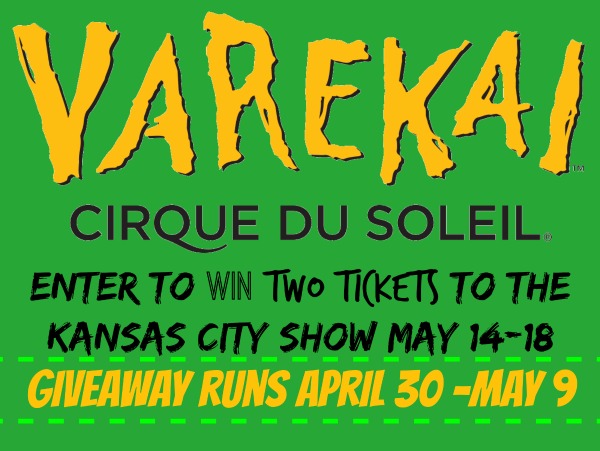 I'm super excited to announce that Cirque du Soleil is giving one reader 2 tickets to the Kansas City show! Please enter if you are within a driving distance to make it to one of the 7 shows between May 14-18 or have someone in the area to gift the tickets to. Participating bloggers are not responsible for prize fulfillment.
This giveaway will run from April 30 through May 9. Winner will be verified, emailed and have 24 hours to respond before a new winner is chosen. Enter through the rafflecopter below.
Drop your thoughts off here: